Profile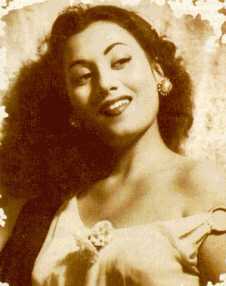 Madhubala dreamt of becoming a movie star from a young age. In fact a trusted holy man
had predicted that she would have fame and fortune but would lead an unhappy life
and die at a young age.
Her jobless father took her to Bombay remembering the holy mans words. They struggled
for over a year when Mumtaz was chosen for a childhood role in Basant. Devika Rani
was impressed with her performance and changed her name to Madhubala, who was to
appear in Jwar Bhata, in which Dilip Kumar was playing the lead role. She was unable
to work in the movie but this was the moment the youngster first set eyes on Dilip Kumar.
Mohan Sinha, a Producer-director taught her to drive at the age of twelve.
Madhubala and her father had to struggle until she became a leading lady. She was
16 years old when her poularity started rising from 1949 onwards, however Mahal was
the movie that really established her star status. She was always puntual throughout
her career and would arrive at the studio at 7am and leave on the dot at 6pm.
Madhubala's heart problem was discovered in a routine check up in 1950, when heart surgery was not available,
she had put on a brave face and her illness was kept a secret from the industry for many years. She
frequently used to cough up blood, nevertheless she tried to live life to it's fullest extent.
She was a prankster and loved to laugh and giggle, once she started she found it difficult to control herself.
Madhubala never experienced childhood and was exploited by many men. She was very naive
in trusting people and was let down on many occassions.
Madhubala was fascinated by hollywood movies and frequently watched them to pick up a few tips to enhance her
performance, she had a tutor to teach her English and had a good command of the language within a few months.
Her talent and glamour was not fully utilised by some of her directors as movies were chosen for the
money and security they brought. However she has given outstanding performances in some of the greatest movies
ever to be produced. (Please see the movies section, the super hits are highlighted)
Madhubala was a true romantic who craved for love. She had a clean heart and had the generous ability to forgive and
forget as she couldn't hold onto grudges. She was 21 years old when the doctors decalred uncertainty about her life.
She was a generous person who donated to charity and continued to support her family till her dying days.
She had five sisters and made Ajit her rakhi brother in 1950.
She was the first moviestar that had a cold war with the media.
[ Home | Dilip Kumar | Marriage | Last days | Movies | Fans Corner | Guestbook ]